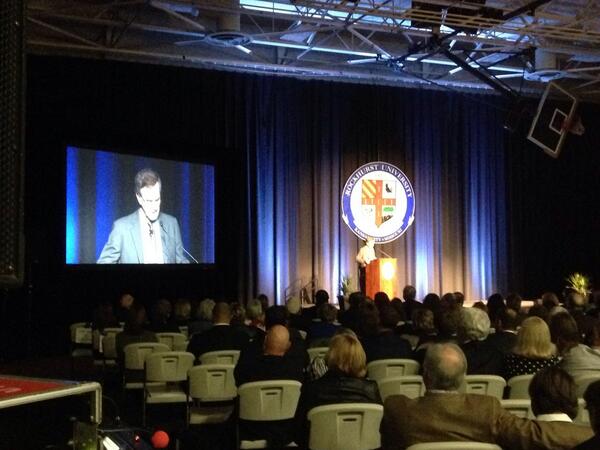 From the Rockhurst Twitter (@RockhurstU)
Last Thursday night and Friday was Rockhurst's official groundbreaking and a presentation to honor donors for the new academic building, named Arrupe Hall. Thursday nig
ht was the presentation titled "

Wisdom and Leadership Depicted Through Humor"

by Doon
esbury creator Garry Trudeau which was intended to honor the McMeel family, donors to the new building. I attended this presentation and greatly enjoyed a chance to hear Mr Trudeau speak. The presentation truly seemed to follow the title of the presentation, beginning with stories of coming into adulthood, moving into the story process ("humans are hardwired to create and process stories") and following with speaking on the topic of comedy ("the opposite of comedy is not seriousness, it is despair"), entertaining us the entire way through. While he questioned his own ability to speak on the topic of wisdom, I found the whole presentation to be captivating.
Countdown we made at my high school for graduation
My favorite quote from his entire speech though came toward the beginning, and I found myself reflecting on it throughout this week. As Mr Trudeau was speaking on his own coming of age, he spoke of navigating the "uncontrolled skid that is adolescence". As I prepare for my own graduation from college in a mere 8 weeks of classes, I cannot help but reflect on the huge impact the past 4 years of my life will have on me and how quickly it has gone by. It seems like just yesterday I found out that I received a full-tuition scholarship to attend Rockhurst, and now I'm in the final weeks to graduate. Four years ago today I was working on projects for high school Spanish class and beginning a countdown bulletin board for graduation from high school (see above) with many of my closest friends, excited and nervous to take that huge step of moving away from home. I never could have imagined what lie in store for me throughout these past four years, but that only points toward what little I can expect to know for the future.